T-Shirt & Poster
Pedicabo ego vos et irrumabo.
Scandal in Rome.
In 62 BC, after several stays in Rome for his formation, Gaius Valerius Catullus, a 25 year old, from a good family and well connected, moved his residence from Verona to Rome where he continued his work as a poet, being the first to develop the Roman elegy. With his friends he frequented literary coteries and were two of these friends, Aurelius and Furius, who picked on him for the poems he wrote, don't know whether of envy or because they were bloody people, and thus, was born the poem of famous verse Pedicabo ego vos et irrumabo. At that time the Roman society was torn between admiration and rejection by Greek culture and one of the subjects of discussion sprang from desire of men to men.
Greek society had been integrated homosexual desire within the teacher-pupil system, however, that mainstream Roman society wanted to reduce it into the master-slave system. In both societies, sex between men, was not a problem as long as they created families, had offspring and followed a specific role. The great empires needed a large number of people, and men, not women, were responsible for actively performing this task.
As a result of this social norm, relevant tags and functions were built. The man, the active, the giver, the strong, the black, and the female, the passive, the receiver, the soft, the white. As always, these excluding dualities generated controversy with those who thought out of the box and lived some shade of gray. A man who put the ass or mouth to service another man was unworthy if he did so willingly as if it was by force, in order to humiliate and punish. You are unworthy because you give me your ass but I am a male because I fuck you. You cannot have the one without the other, but one was good and the other was bad.
Catullus with his poems, in which he spoke of his love for his young friend and pupil Juvencio (who also moved from Verona to Rome) left uncovered in eyes of their friends Furio and Aurelio, two older poets, that this love did not fit nor in the Greek system neither in the Roman, no matter how Catullus wrote love and heartbreak poems to Clodia, a beautiful married woman he called Lesbia and with which he shared his fondness for the poems of Sappho.
Taken to Today, Catullus had put on the halo of a good citizen, man and male, at night frequented certain gay places with friends, other sissy poets who had gone through the phases of pupil and teacher, and in his age had passed to the reviled, and no less frequent, bottom side. Aurelius and Furius, bad pointedly, told him: Ok, yes, "muy macho" with your love towards Lesbia, the fag hag, but you're actually in love with Juvencio, who you want far away of the rest of the adult males and with whom you get angry, jealous, if he fucks with friends or he does not want to give you a passionate kiss. Shall not be that you are, like us, outside path?
Catullus got a big anger, went home doing zigzag across Roman village and dedicated them the poem known as Carmen 16, which shocked the scholars of his work and spent 20 centuries without translation. Says so:
Pedicabo ego vos et irrumabo,
Aureli pathice et cinaede Furi,
qui me ex versiculis meis putastis,
quod sunt molliculi, parum pudicum.
Nam castum esse decet pium poetam
ipsum, versiculos nihil necesse est;
qui tum denique habent salem ac leporem,
si sunt molliculi ac parum pudici,
et quod pruriat incitare possunt,
non dico pueris, sed his pilosis
qui duros nequeunt movere lumbos.
Vos, quod milia multa basiorum
legistis, male me marem putatis?
Pedicabo ego vos et irrumabo.
We have found many contemporary translations, but we preferred to do ours, which does not differ from the rest in obscenity, but in a different social context exposure of homosexual desire, which is what we want to show of the Catullus poem. Thus says:
I will fuck your ass and come in your mouth,
Aurelius the cock sucker and Furius the faggot,
for my verses you took me for
a bottom, because they are tender and delicate.
As virtuous should be an honest poet,
his verses don't need to be so;
because they have salt and grace,
if they are impudent and delicate,
provoke desire and excitement,
not boys, but old hairy men like you,
unable to get a hard-on, you become ass givers.
You, because you read in my poems
many thousands of kisses, you consider me less of a man?
I will fuck your ass and come in your mouth.
Do you want more stories like Pedicabo? Visit our funny collection.
T-Shirt & Poster
When you purchase a Moscas de Colores design you not only help us to support this website and this project, but you also become part of the group of people that spread the words, their history and the reality that has gone with us and that still goes with us, because each of our designs is a story that you will tell and explain, an opportunity to help things get better by normalizing, visibilizing and, why not, reappropriating.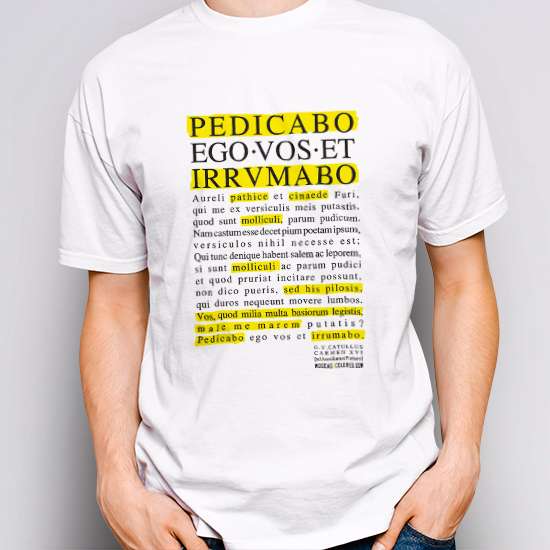 Pedicabo ego vos et irrumabo.
"Pedicabo ego Vos et Irrumabo" was a poem by Cayo Valerio Catullo, written in Latin, that was not translated during 20 centuries for being obscene. The story of this poem is very interesting because it shows how the classic Roman society was related to homosexual behavior. A design with a brutal story for a funny t-shirt and for printing a poster for the reception of your house.
Other Drawings & Stories of this collection:
And leave us a comment
▼ Be the first to comment

▲ Close coments