T-Shirt & Poster
Paragraph 175 (Germany).
The invention of homosexuality.
Initially, the expression  "the 175's guy" or 175er, was included in our Gay Slang Collection because it was a slang term referring to the German penal code article, but finally we decided, because currently it is not used, leave to Protest Collection which we opened today, with Paragraph 175. 
Paragraph 175 was a rule of law of the German penal code, inherited from the Prussian law, which criminalizes sex between men and which was in force from 1872 to 1994.
The text of Paragraph 175 reads as follows:
«Fornication against nature made between men or people with animals is punishable by imprisonment, also may remove civil rights.»
The origin of this rule dates back to the 13th century where anal sex between men went from being a sin perfectly legal to be a crime punishable by death. This rule that spread all European legislation has evolved over the years in most countries changing the death penalty for the prison, and also includes women or reducing it to sex with minors.
From the 1860s the LGBT movement pioneers like Karl-Maria Kertbeny, creator of the term homosexual, or Karl-Heinrich Ulrichs, tried unsuccessfully that the norm of Prussian law was not included in the penal code of the German Empire, as they considered homosexuality as something innate that he should not be punished. Later in 1897 was founded the Scientific Humanitarian Committee (Wissenschaftlich-Humanitäres Komitee or WHK) for the same purpose and with the same result especially with the advent of Nazism, with which escalated homosexuality sentences.
In 1989 the German Democratic Republic was the first of the two Germanys to decriminalize homosexuality, arguing that «homosexuality like heterosexuality represents a variety of sexual behavior. Homosexual persons are not therefore out of socialist society and civil rights are guaranteed them in the same way as other citizens.» Later in 1994 after the unification was decriminalized homosexuality in Germany.
During the 122 years that the rule was in force in many versions and given the lack of data between 1941 and 1950, were processed 140,000 people, more than 3 per day, of which nearly 120,000 were sentenced. Peak convictions occurred under Nazism. Only between 1936 and 1941 42,000 homosexuals were sentenced. During the Second World War were killed an estimated 7000 gays and lesbians.
Of special interest is the film Paragraph 175, in which interview a few gay survivors of Nazism who were still alive in 2000. An excellent and thrilling document, with great stories that were silenced for decades by the rejection, stigma, and shame that continued after the fall of Nazism.
More information in our blog post: What is homosexual? 
Documentary Paragraph 175 with English subtitles.
Do you enjoy Paragraph 175? check out the whole Protest! Collection.
T-Shirt & Poster
When you purchase a Moscas de Colores design you not only help us to support this website and this project, but you also become part of the group of people that spread the words, their history and the reality that has gone with us and that still goes with us, because each of our designs is a story that you will tell and explain, an opportunity to help things get better by normalizing, visibilizing and, why not, reappropriating.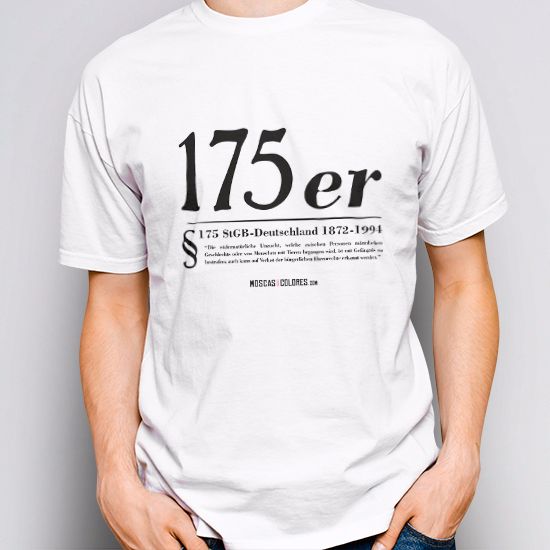 Paragraph 175 (Germany).
The first political movement in favor of sexual diversity took place in Germany in the 1860s with the aim that the paragraph 175, which penalized sexual relations between men, was not included in the new penal code. With this pride clothing, we want to commemorate those beginnings and the birth of homosexuality.
Other Drawings & Stories of this collection:
And leave us a comment
▼ Be the first to comment

▲ Close coments